Thermal Shock Tank - TC-110
Thermal Shock Tank - TC-110
Compliance standards
EN ISO 10545-9, ASTM C484, IS 13630 (Part-5)
Applications
To determine the Resistance to thermal shock of Ceramic tiles
Quick Inquiry
Selection guide
| | |
| --- | --- |
| Model No | Accommodates Tile size |
| TC-110-DHV60 | 600 X 600 MM Tiles |
| TC-110-DHV80 | 800 X 800 MM Tiles |
| TC-110-DHV100 | 1000 X 1000 MM Tiles |
| TC-110-DHV120 | 1200 X 1200 MM Tiles |
Vertical Thermal Tank
Designed for cooling ceramic tiles by immersing them in water
Suitable for sizes of up to 50x50 cm.
If the glazed tiles are showing an absorption coefficient ≤ 10% (m/m), then they must be immersed in a "Vertical Thermal Tank"
Fitted with flowmeter to maintain water flow rate of of 4 lt/min
Fitted with microprocessor based digital controller to maintain temperature of 15 ± 5 °C
Has sufficient depth to allow the tiles to be placed vertically, immersed and so that are not in contact with each other.
Water drainage outlet with pipe fitting
Stainless steel bucket for samples



Horizontal Thermal Tank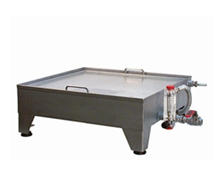 Designed for the indirect cooling of ceramic tiles, without immersion
Suitable for sizes of up to 50x50 cm
If the glazed tiles are showing an absorption coefficient >10% (m/m), then an operator must use "Horizontal Thermal Tank".
Complete stainless steel tank structure
Aluminum plate of 5 mm thickness is kept inside the tank.
Flowmeter to maintain 4 lt/min water flow rate
Microprocessor based digital controller to maintain temperature of 15 ± 5 °C
Water drainage outlet with pipe fitting
Stainless steel bucket for samples
Supplied complete with a 5 kg pack of aluminum granules of different diameters (from 0.3 to 0.6 mm).